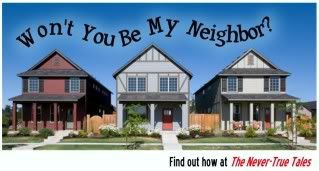 Today it is my pleasure to host the writing of Elizabeth Grant, one-half of the dynamic partnership behind Life in Pencil. After I discovered Life in Pencil last month, it quickly became one of the first stops each morning on my bloggy rounds. Elizabeth, a self-described "change-a-holic," never fails to impress me with her introspection and eloquence. I alternately find myself challenged by her insight and moved by her prose, and I am grateful to her for sharing this piece with the Motherese community.
When you finish reading here, please click on over to visit Elizabeth and Anne at Life in Pencil for another dose of their reflections on "living life amongst the eraser shavings."

---
"It's Not You, It's Me…and You."
A few weeks ago I received an email from my friend, Anne. I had confided to her that, over the past several months, a number of friendships had not just fizzled out but crashed and burned, in such rapid-fire succession that it seemed as if a conspiracy was in my midst, and I wondered why that was. Searching for theories, she offered that, as we move into the third decade of our life, people drift in increasingly different directions and seem to be less tolerant of differing viewpoints and opinions. And when I thought about these crumbling relationships, I was surprised to discover that, in nearly every case, the root cause was some version of one or both parties maintaining a rigid stance. Whereas I'd always been able to navigate these relationships flexibly, the middle ground that we'd always stood on seemed to dissolve beneath us. As adults, we're supposed to be growing ever-wiser and more mature, using our highly evolved communication skills to put aside our differences for the common good. And yet, more than ever these days, I feel as if I'm gingerly picking my way through a minefield of primitive emotion, threatening to detonate my fragile ego at any moment.
Anne continued. "Or maybe it's less about tolerance and more about realizing you have a finite amount of time and want to spend it with the people you click best with." Huh, I thought. The longer we're on this earth, the more acute our sense of mortality, and the less we give a damn. We marvel at - and even applaud - curmudgeonly old folks who do what they want to do without apology or a sense of propriety. The older we grow, we're told, the more we know who we are. Perhaps, then, our increasing inflexibility is simply our way of saying, "I know who I am and I'm not willing to compromise that. I don't have time to waste on people who I don't connect with." On one hand this sounded reasonable, even logical. In our culture, we accept and find nobility in that kind of self-assured, devil-may-care attitude. And yet…there was something in that rigid stance that rubbed me the wrong way. But like an itch I couldn't scratch, I couldn't figure out why that stance bothered me so. Perhaps it's because I lack that kind of self-confidence, or maybe I haven't reached that stage where I'm willing to give the world the middle finger. Perhaps I'm someone who naturally seeks the middle ground, or maybe I just hate rocking the boat? Whatever the reason, there was something in that attitude that didn't just set my jaw wrong but made me feel downright sad. And it had something do, I suspected, with a fear of change.
It's easy to sit back and marvel at how much another person can change, to scratch our heads in wonderment at how things that were just-so for so long can suddenly be so different. It's easy to point our finger and say, "You've changed," but so much more difficult to turn that finger back on ourselves and admit, "I've changed." Given the sheer volume of relationships that have collapsed in a finite period – me being the common denominator in all cases – it's impossible not to take a good, hard look at myself and wonder what part I've played in this. While I haven't gone around shaking the trees looking for trouble, and as difficult as this is for me to admit, I think I probably have changed. My response to these situations has changed. My relationship to this constellation of friendships has changed. Whereas my 20 year-old self would have turned a blind eye and swallowed my anger, I've spoken my peace and held my ground in ways I wouldn't have before. What I couldn't see was that, while I've moped around for months bemoaning the fact that everyone else had changed, I was inching my way to becoming that curmudgeonly old woman.
So have I changed or have they changed? Who knows for sure, but my guess is that we've both changed, each holding our ground for our own reasons. What I do know is that living a life in pencil asks us to accept whatever life may throw our way as gracefully as possible; and, in order to do that, we have to embrace the changes that are both welcome and not-so-welcome. I accept the fact that some of these relationships that have fallen apart will be reborn, some will change, some will grow, and some will die altogether. But, as someone who prides herself on embracing change, I have surprised myself by just how sad these changes make me. Despite being a champion of change, when it comes to relationships, I certainly haven't done a very good job of letting people do just that. I can accept the changes these people make or walk away from them, but I can't implore them not to change. To prevent people from changing, based on my own sentimental desires for them to stay the same, is no better than rigidly standing my ground. Sometimes I just wish things could stay the same forever, even though I know that's impossible.
How do you deal with the inevitable change (or evolution) of relationships, romantic, platonic, or otherwise? Are you a proponent of cultivating more like-minded or more diverse relationships? Do you think relationships get harder or easier as we get older? Do you think we become less flexible, or simply less tolerant of spending our time with people whom we don't 'click' with, as we grow older?